Nexsan BEAST

Everything You Need and Nothing You Don't

Sorry, this product is no longer available, please contact us for a replacement.
Overview:
Lower storage costs and get maximum uptime with Beast's practical and hardworking, reliable storage platform, giving you 600TB in 4U. Beast is built specifically for applications with enormous data growth like backup, archive, digital video surveillance, and more.
WE RUN WHERE OTHERS DON'T
There are plenty of things to worry about every day and storage shouldn't be one of them. The BEAST is built to withstand some pretty tough storage environments outside the data center like ships, subway stations, and storage closets that are less than ideal environments. We make it easy to use the BEAST—our customers say, "you just set it and forget it."

High-Density
600TB in just 4U, or combine systems for over 6PB in a 42U rack.

Highly-Scalable
Starts as small as 40TB and scales to over 1.8PB in one configuration.

Ultra-Reliable
All systems are stress-tested to deliver the highest reliability out of the box.

AutoMAID®
Improve energy efficiencies and cost-savings.

Anti-Vibration Design™
Reduce rotational head vibration to increase drive performance.

Cool Drive Technology™
Reduce heat to increase drive reliability and longevity.
Specifications:
Feature
BEAST
ENTERPRISE FEATURES
High Availability
Dual, redundant hot-swappable components with battery-backed mirrored cache.
Cool Drive TechnologyTM
Optimizes air flow and component cooling to increase reliability.
Anti-Vibration Design
Reduces Rotational Vibration to improve system performance and reliability.
AutoMAID® Power Management
Configurable power savings of up to 87% reduces operating expenses and extends the overall life of the system.
Array-based Snapshots and Replication
Snapshot and replication are embedded into Beast for application-consistent snapshots and asynchronous replication to support demanding data protection requirements.
VMware, Xen, Hyper-V & Windows Compatible
Compatibility with the leading virtualization tools.
Stress Testing to Improve Reliability
All disk drives are individually stress tested and then, prior to shipment, all drives are again tested within the system.
STORAGE ENCLOSURES
Disk bays / Rack U
60 | 4U
Expansion Unit
BSTX
Maximum Drives with Expansion
180
Maximum Raw Capacity (chassis/total)
600TB | 1.8PB
Max Cache per Controller
16GB
STORAGE MEDIA
3.5" 7.2K Drives (TB)
2 | 4 | 6 | 8 | 10
HOST CONNECTIVITY
Simultaneous Fibre Channel and iSCSI
Y
1Gb iSCSI Ports per Controller
2 or 4
10Gb iSCSI Ports per Controller (optional)
2
8Gb or 16Gb FC Ports per Controller (optional)
2
10/100 MbE Management Port
1
AutoMAID:

With ever-increasing volumes of data, IT departments are looking for storage systems that minimize both the rack space required and power and cooling expenses. Buildings with infrastructures designed 10 years ago are now reaching their limits on what they can support with power and cooling ranking among the top concerns of new datacenters.
Nexsan is the industry leader in both of these areas. AutoMAID power management technology, built in to the E-Series disk arrays, can save up to 87% on power and cooling bills, as explained in this paper.
Best Usage Scenarios
AutoMAID allows the administrator to define policies that place drives into progressively lower power states based on disk activity. In a typical disk array, there may be several RAID disk sets. The AutoMAID power management policy is per RAID set, not necessarily across all of the drives in the storage system. AutoMAID policies are based on the time of day, day of the week, and amount of time elapsed since the last access to the disk set. A true "set and forget" setting, AutoMAID allows the administrator to define the policies that will allow for the least disruption to productivity by users. If a Nexsan storage system is not idle, AutoMAID does not kick in; only when RAID sets hit policy limits on inactivity does AutoMAID begin to progressively transition to lower power usage.
One common use for AutoMAID is for backup to disk. At 10PM the backups start, and all drives are running at full speed to complete the nightly backup as quickly as possible. But at 7AM the backups are done, and that RAID disk set will not be accessed for another 15 hours. So a policy is set that says if none of the disks are accessed for 30 minutes, go into a power savings state. Then at 10PM the first write takes about 30 seconds longer than usual, then the entire disk set runs at full speed while backups are being performed.
Another common use is when large scientific projects are being stored. Perhaps the scientists are working on the Mars data, and the Moon data is sitting idle. This is the ideal time for AutoMAID to spin down the RAID disk set housing the Moon data until the Moon data is accessed again. The nice thing about AutoMAID is that the policies are easy to set up and change. Users and applications are unaware of the power efficiencies that are occurring. If a set of disks is being actively accessed, they will stay running at full speed for all users. It couldn't be simpler or more effective.
Ideal for Backup-to-Disk and Bulk Storage Applications
Lastly in video surveillance, the storage system can be configured with 7 RAID disk sets, one for each day of the week. In this configuration only one RAID disk set needs to be powered up at any given time to accept that day's data, resulting in startling power savings. Of course all drives are accessible as needed, should someone wish to view or process the video captured on prior days.
Technical Details
There are 5 levels of power savings that AutoMAID supports in the E-Series: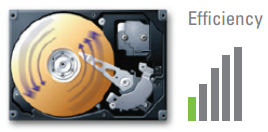 Level 1:
Heads parked/unloaded
Sub-second recovery time
About 15% to 20% savings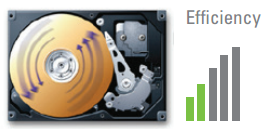 Level 2:
Heads unloaded (slows to 4000 RPM)
15 second recovery time
About 35% to 45% savings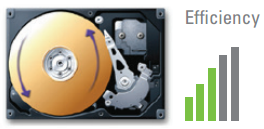 Level 3:
Stops spinning (sleep mode; powered on)
30 to 45 second recovery time
About 60% to 65% savings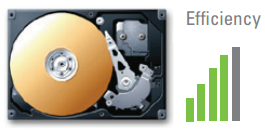 Level 4:
Stops drive electronics
30 to 45 second recovery time
About 70% savings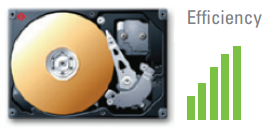 Level 5:
Turn off E60X expansion enclosure
30 to 46 second recovery time
About 87% savings with SATA
About 92% savings with 15K SAS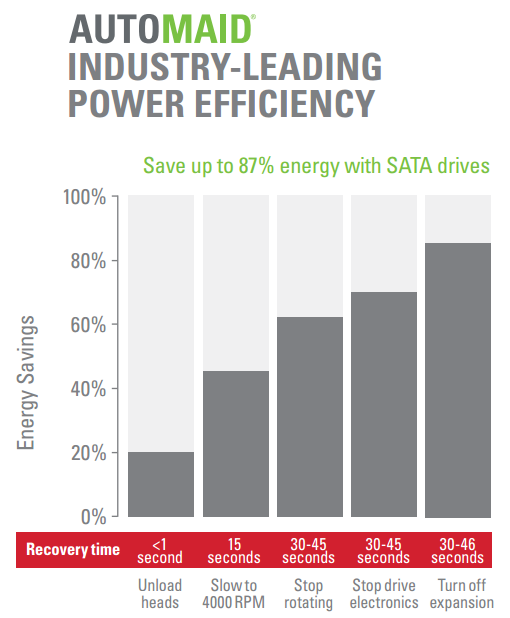 Management:
From Anywhere To Anywhere
That's because–whether you're across town or halfway around the world–you can manage all Nexsan storage products remotely. Our management capabilities are intuitive and easy to use. They require minimal training. And all of our interfaces provide different levels of security to ensure proper authentication and prevent unwanted users from gaining access.
You can configure Nexsan E-Series and Beast products through our unique, secure and intuitive Web-based GUI tool. The interface uses standard HTML and is compatible with all mainstream browsers (Internet Explorer, Netscape, Opera, Mozilla, Firefox, Safari, etc.) that aren't hardware-, software- or Java-runtime-specific. The embedded Web-browser GUI operates over the 10/100 Mb/s dedicated Ethernet management ports, and supports e-mail alerts and SNMP traps. We also provide a standard serial port for local and direct system configuration.
In addition to the GUI, Nexsan Storage Tools – a comprehensive set of storage management software tools for Windows Server families–make it easy to manage and configure multiple units from a single GUI. Nexsan Storage Tools provide support for Windows Virtual Disk Service (VDS) and Microsoft Management Console (MMC), and include MPIO support for Nexsan RAID storage systems.
Views:



Front View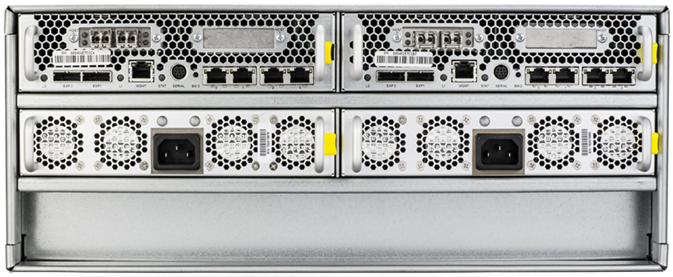 Rear View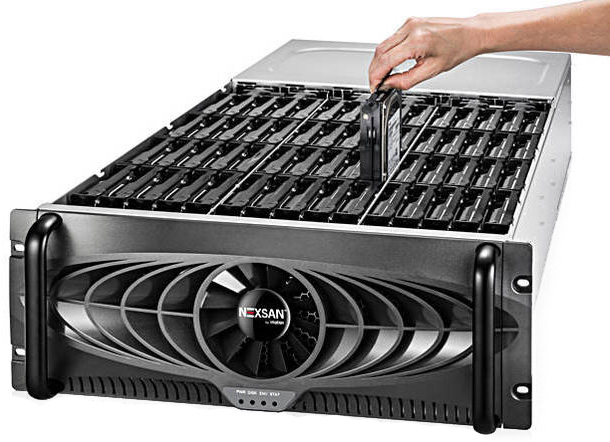 Drive Pull-out View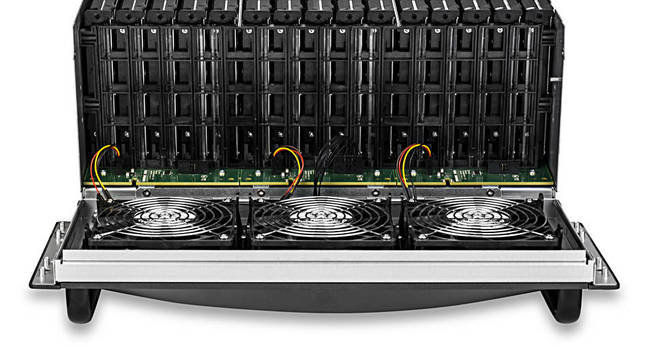 Front Bezel-Down View
Compare:
Efficient, Versatile Modular Storage
Nexsan BEAST and E-Series are ultra-reliable, high performance block storage systems that enable organizations to boost their storage ROI by scaling capacity while controlling infrastructure and energy costs. BEAST is a hard working, capacity optimized storage array that offers enterprise level reliability at an affordable price point. BEAST helps organizations stay ahead of the enormous capacity growth that occurs in backup, archive, and digital video surveillance use cases.
E-Series storage arrays and expansion units can be deployed with mix and match HDDs and SSDs to optimize capacity, performance and cost. This versatile enterprise-class SAN or DAS solution helps handle the enormous data growth, demanding workloads, and high resiliency requirements in media & entertainment, government, healthcare, HPC, financial, surveillance and service provider sectors.
| | | | | | |
| --- | --- | --- | --- | --- | --- |
| | | | | | |
| | E-Series 18V | E-Series 32V | E-Series 48VT | E-Series 60VT | BEAST |
| Max. Storage Capacity / Unit | 144TB | 57.6TB | 384TB | 480TB | 480TB |
| Max. No. of Drives / Unit | 18 | 32 | 48 | 60 | 60 |
| Max. Capacity with Expansion | 432TB | 172.8TB | 1.15PB | 1.44PB | 1.44PB |
| Form Factor (Unit / Expansion) | 2U/6U | 2U/6U | 4U/12U | 4U/12U | 4U/12U |
| Mix of HDDs & SSDs | | | | | |
| AutoMAID Power Efficiency | | | | | |
| Advanced RAID Rebuild | | | | | |
| Encryption at Rest | | | | | |
| Anti-Vibration Design | | | | | |
| Active Drawer Technnology | | | | | |
Support:
Warranty: Three Years Advance Replacement
Nexsan Technologies storage systems are warranted for three full years from the date of shipment. Upon verification of component failure and issuing of a Return Material Authorization (RMA), replacement equipment will be advance-shipped to the customer. An RMA can be obtained by phone, fax or email and will accompany all replacement equipment shipped. Warranties are non-transferable without prior consent from Nexsan. Extended Warranties are available for purchase.
Basic Support
Nexsan customers who prefer to perform simple hardware replacement themselves and do not need 24x7 care choose Basic support. As needed, replacement parts are advance-shipped within one business day of diagnosis of a hardware fault. Basic support includes Nexsan Technical Support by phone and email during standard Nexsan Business Hours. Software upgrades are available for an additional charge. Software/Firmware Updates are free. Nexsan E-Series and SATABeast RAID products include Basic Support with the Standard Warranty.
Enterprise Support
Nexsan Enterprise support offers an enhanced level of service to simplify maintenance and improve overall system availability. Enterprise support includes 24x7 phone and email support, as well as Next Business Day onsite hardware replacement for our customers who do not need the around the clock response of the Premium Support program. Under this coverage a trained field engineer will respond to your location on the next business day following diagnosis of a hardware issue.
Regulatory Approvals
CE, UL, CUL
Premium Support
Nexsan customers who require infrastructure operation 24x7x365 choose Premium support for fast, 24x7 response and onsite hardware replacement. Once a hardware issue is diagnosed by phone, a Nexsan Technical Engineer arrives onsite, within 4 hours, if needed. Premium support also offers enhanced response times to software support issues and an exclusive support hotline for around-the-clock access. Software/firmware updates and upgrades are included.
Onsite Spares
This program provides customers with on-location spares for maximum convenience and protection of critical storage devices. The Onsite Spares Program enables customers have all commonly used spare parts located in their facility for rapid replacement and restoration of operations. Along with optional 24x7 phone support, customers can be assured of rapid resolution to any problem. Replaced components can be advance-shipped for constant availability.