Nexsan E-Series 60P Promo

Take Advantage of the E-Series 60P Q4 Promotion And Get up to 240TB Free!

Take Advantage of the E-Series 60P Q4 Promotion And Get up to 240TB Free!
We know storage is expanding daily and we'd like to offer you a special promotion when you purchase a Nexsan E-Series 60P Solution. You buy the system with 45 HDDs and the additional 15 HDDs will be included for free. This offer gives you up to 240TB for free to meet the ever-growing storage capacity you need at an amazing price!
The E-Series P is an ultra-reliable storage array for affordable enterprise-level Fibre Channel, SAS, and iSCSI storage. E60P gives you the versatility to stay ahead of enormous data growth, demanding workloads and high resiliency requirements. E-Series P is sure to lower your storage costs, maximize storage uptime and expand seamlessly when needed - up to 2.88PB per system.
The E60P fits the bill for diverse capacity and performance-based applications like media & entertainment, surveillance, government, healthcare, financial, and backup.
How It Works:
Contact your local authorized Nexsan Partner or Nexsan Regional Sales Director to review your storage requirements.
The E-Series 60P (E60P) is eligible for the promotion. You must purchase the system with 45 drives and the additional 15 drives are included for free - with 16TB drives, that's an additional 240TB.
The drives available for this promotion include the following: - 7.2K SAS Drives: 4TB, 6TB, 8TB, 10TB, 12TB, 14TB and 16TB
Promotion is not valid on expansion units.
An authorized Nexsan Partner will provide you with a quote for the storage solution with the promotional discount applied.
PO must be submitted by December 31, 2020.
Cannot be combined with any other offers.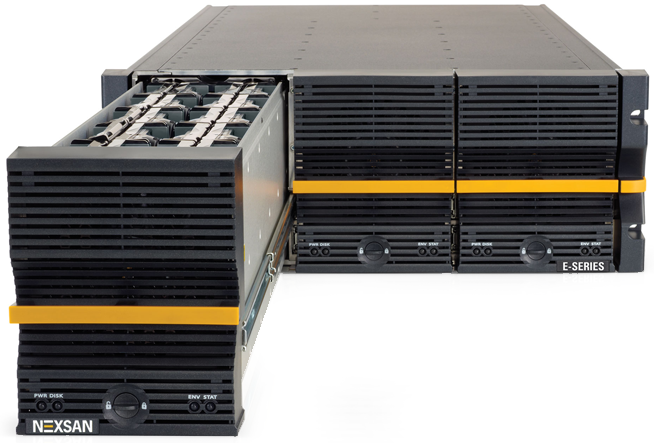 ---
Need help? Chat with an industry expert right now!
Please fill out the form below or call us at 800-886-4880.
Contact Us
Mailing Address:
NetStorageSales.com
A division of Virtual Graffiti, Inc.
9979 Muirlands Blvd.
Irvine, CA 92618
Local: 949-328-2862
Toll Free: 877-352-0547
Fax: 949-266-9332
Our team is here to help you! We are available from Monday – Friday: 7am - 9PM PST and Saturday – Sunday: 9am - 6PM PST and attempt to respond to all inquiries within 1 business day.
Please Note: Technical support is provided by the manufacturer. If you have product support related questions, please contact the manufacturer directly.