Nexsan E-Series Buy 2 Full Drawers Get The 3rd Free

(That's up to 240TB FREE!)
Sorry, this promo is no longer available, please contact us.
TAKE ADVANTAGE OF THE E-SERIES CUSTOMER PROGRAM
BUY A SYSTEM WITH 2 FULL DRAWERS AND GET THE 3RD FULL DRAWER FREE!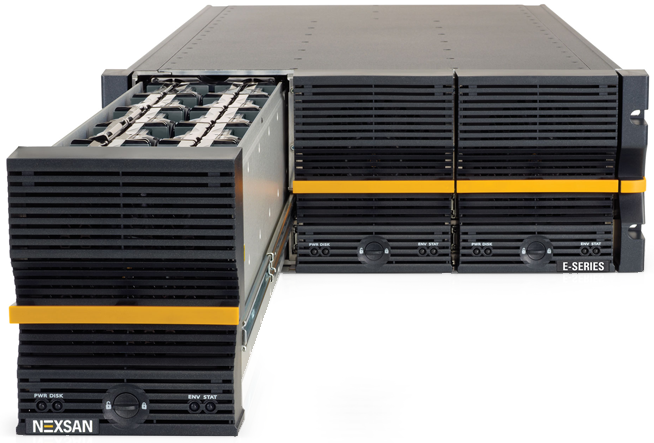 Promotion valid until September 30, 2020
We know storage is expanding daily and we'd like to offer you a special promotion when you purchase a Nexsan E60P Solution. You pay for the first 2/3 and we pay the rest, giving you up to 240TB free for the ever growing storage capacity you need at a great price!
E-Series P fits the bill for diverse capacity and performance based applications like media & entertainment, surveillance, government, healthcare, financial, and backup. It's the ultimate ultra-reliable storage array for affordable enterprise-level Fibre Channel, SAS, and iSCSI storage.
The E-Series P is a highly reliable storage solution that gives you the versatility to stay ahead of enormous data growth, demanding workloads and high resiliency requirements. E-Series P is sure to lower your storage costs, maximize storage uptime and expand seamlessly when needed - up to 2.16PB per system.
Don't wait for next quarter, the best deal for industry-leading enterprise storage is now!

Nexsan is now offering up to 240TB Free when you purchase an E-Series 60P with 60 drives, you pay only for 45 HDDs and get 15 additional drives included at no cost.

Nexsan E-Series 60P lowers your storage costs, maximizes storage uptime, and expands seamlessly when needed - up to 2.88PB per system.

Here are some key features that make the E-Series 60P so popular with our customers:
Veeam Certified and used in many backup environments including Commvault.
Enterprise Software Features included – Snapshots, Replication, vCenter Plugin, and Third-Party Integrations.
Active Drawer TechnologyTM - Drives remain active when the drawer is open for easy hot-swappable drive management.
Cool Drive TechnologyTM - Optimizes airflow and component cooling to increase reliability.
AutoMAIDTM - Configurable power savings of up to 87% reduce operating expenses and extend the overall life of the system.
Contact Us for more information:
Loading...